Our Story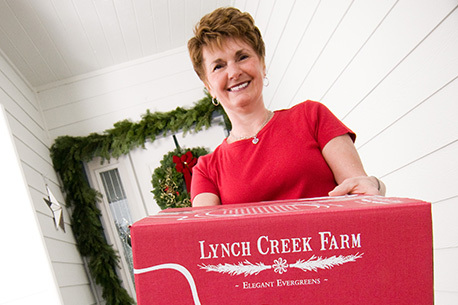 A community-oriented, family-owned institution of the tiny town of Shelton in western Washington, Lynch Creek Farm has contributed to the growth of the local economy for over three decades. A little organic vegetable farm was first established to "keep the kids out of trouble," but rapidly blossomed due to an extraordinary focus on expert craftsmanship.
We have flourished into a year-round business and one of the largest shippers in the state of Washington. The public fell in love with fresh evergreens from the Pacific Northwest and our intense emphasis on the quality of the final product. Today, Lynch Creek Farm wreaths, centerpieces, and garland can be found adorning festive homes in every corner of the United States.
While the massive success of Lynch Creek Farm has allowed us to share our artisan holiday gifts with the entire nation, we have never lost sight of our humble origins. Everything from customer service to wreath design and production is still all done on one plot of land in the tiny town of Shelton, surrounded by the pristine forests of the Great Northwest.

Partnership Across America
Lynch Creek Farm remains a family-owned neighborhood business to this day, and as our operation has expanded, so has our ability to work with community organizations across the country. Our fundraising program was introduced just a few years ago, but has exploded in popularity and drastically increased in scope.
We have a dedicated support staff that is filled with friendly, knowledgeable individuals who do everything in their power to help every one of our fundraisers succeed. While many fundraising programs simply provide you with startup materials, we are there with our community captains every step of the way.
Becoming a partner with Lynch Creek Farm means that you will be equipped with everything you need to reach your fundraising goals while spreading holiday cheer with full, fresh, natural holiday gifts.